Major General Eldon Bargewell Media
MG Eldon Bargewell MACV-SOG
Major General Eldon Arthur Bargewell was a United States Army General officer. He served in MACV-SOG Rangers and as commander of the U.S. Army's Delta Force unit.
Eldon Bargewell Tribute 2019
A very moving tribute honoring Major General Eldon Bargewell by the Special Operations Association.
2010 BULL SIMONS AWARD HONOREE
The Bull Simons Award is given by U.S. Special Operations Command to the person who exemplifies the esprit, values, and skills of the special operations warrior.
A biographical video of Major General Eldon Bargewell, the 2010 recipient.
Modern military history podcast
Special Forces historian Bud Gibson joins the MMH Podcast to prove how MACV-SOG directly led to the creation of Delta Force. In Part 1, he discussed Col. Charlie Beckwith and Major Richard J. Meadows who were both founding figures of Delta and served with SOG in Vietnam. In Part 2, he tells the stories of MSgt. William "Country" Grimes, SGM Walter L. Shumate, and Major General Eldon Arthur Bargewell. (MG Eldon Bargewell's story starts at 42:44)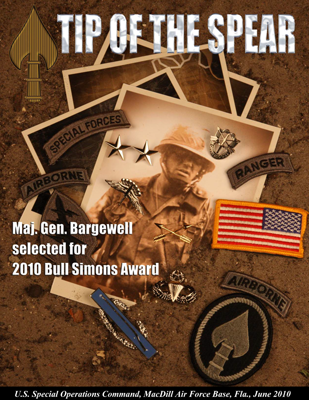 Tip of the Spear Magazine
June 2010 issue, featuring Major General Eldon Bargewell, 2010 Bull Simons Award recipient
Presidential Unit Citation
4 APRIL 2001  The Presidential Unit Citation (Army) was awarded to MACV-SOG (Military Assistance Command, Vietnam Studies and Observations Group), during a ceremony at Ft. Bragg, North Carolina. The citation is awarded to units for extraordinary heroism in action. The unit award is equal to the individual award of the Distinguished Service Cross, the U.S. military's second highest award for valor.
Image 1 of Presidential Citation
Together We Served – Roll of Honor, MG Eldon Bargewell
Together We Served website
How Top-Secret Commando Unit SOG Took On the Most Dangerous Missions in Vietnam
HISTORYNET website
Special Operations News Update
SOF News website
Major General Bargewell Camouflage Beret
Special Forces History website
The Major General Bargewell Memorial Delta Park Will Honor a Hoquiam Hometown Hero
Grays Harbor Talk website
(Note: original post has been edited)
MACV-SOG: The Covert Special Operations Unit You've Never Heard Of   
Stavros Atlamazoglou, Sandboxx website
Group Raises Funds for Hoquiam Park to Honor Homegrown Military Hero 
The Daily World, June 22, 2021
Major General Eldon Bargewell, a Special Operations Legend, Stavros Atlamazoglou, Sandboxx website
Eldon Bargewell, Missions Possible, The Daily Progress, November 5, 2006
Four Decades After War, a Friend Comes Home, The Daily Progress, October 2, 2011
At the Wall, Another Wall Comes Down, The Daily Progress, October 2, 2011
SOG During The Vietnam War, Business Insider, February 9, 2021
General Eldon Bargewell of Hoquiam remembered as a warrior, The Daily World, Apr 30, 2019
3 Legendary Leaders, Stavros Atlamazoglou, Business Insider, November 12, 2020
General Leading Haditha Probe Known for Integrity, Toughness, Washington Post, June 16, 2006
Distinguished Member of the U.S. Army Special Forces Regiment, Inducted April 5, 2012
Last Man Out, Tom Neven USSOCOM History Office, Soldier of Fortune website
Together We Served, Military Service Page for MG Eldon Bargewell created by SGM Mike Vining
Major General Eldon Bargell Obiturary, Dothan Eagle, May 8, 2019
Major General Eldon Bargell Biography
Special Operations Legend Major General Eldon Bargewell Laid To Rest, by Jack Murphy, SOFREP, May 11, 2019
Major General Eldon Bargewell Gravesite
Please donate by mailing your check to:
Grays Harbor Community Foundation
c/o MG Eldon Bargewell Memorial
707 J Street
Hoquiam, WA 98550
Or online at:
https://www.gh-cf.org/online-donation/
Select "Eldon Bargewell Memorial Fund" in the Donations Options box.
© 2023 MG Eldon Bargewell Foundation