Awards, Badges & Commendations
Eldon Bargewell enlisted in the US Army in 1967. He served two tours in Vietnam, where he was awarded the nation's second highest medal for valor, the Army Distinguished Service Cross. When Major General Bargewell retired in 2006, he was the most decorated active duty soldier.
Combat and Operations Tours
Army Distinguished Service Cross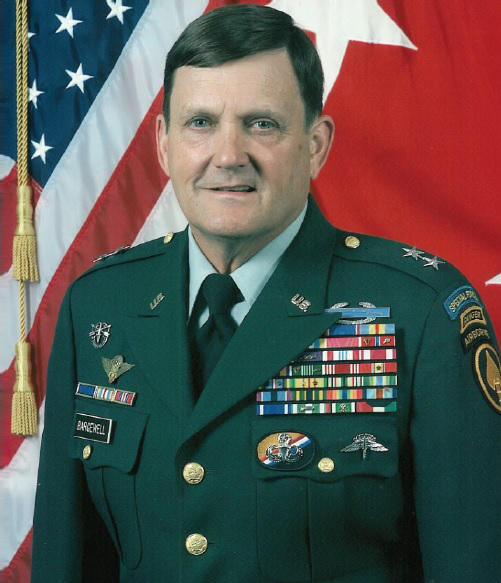 Combat and Operations Tours
The Distinguished Service Cross
The Distinguished Service Cross (DSC) is the second highest military decoration that can be awarded to a member of the United States Army (and previously, the United States Army Air Forces). It is awarded for extraordinary heroism:
While engaged in action against an enemy of the United States;
While engaged in military operations involving conflict with an opposing foreign force; or
While serving with friendly foreign forces engaged in an armed conflict against an opposing armed force in which the United States is not a belligerent party.
Actions that merit the Distinguished Service Cross must be of such a high degree that they are above those required for all other U.S. combat decorations but do not merit award of the Medal of Honor. The Distinguished Service Cross is equivalent to the Navy Cross (Navy and Marine Corps, and Coast Guard when operating under the authority of the Department of the Navy) and the Air Force Cross (Air Force).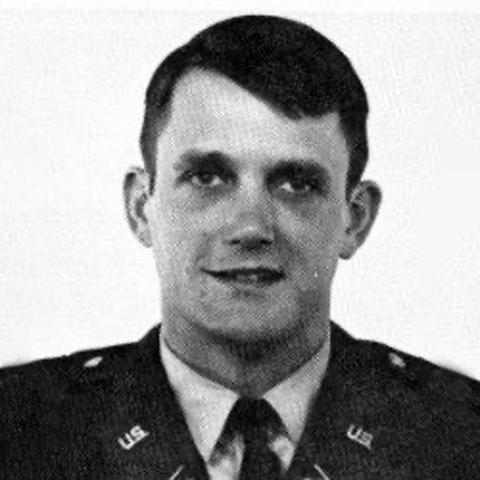 Eldon A. Bargewell
PLACE OF BIRTH: Tacoma, Washington
HOME OF RECORD: Hoquiam, Washington
Awarded for Actions During Vietnam War
Service: Army
Rank: Staff Sergeant
Division: 1st Special Forces
GENERAL ORDERS: Headquarters, U.S. Army, Vietnam, General Orders No. 3391 (November 30, 1971)
CITATION
The President of the United States of America, authorized by Act of Congress, July 9, 1918 (amended by act of July 25, 1963), takes pleasure in presenting the Distinguished Service Cross to Staff Sergeant Eldon A. Bargewell, United States Army, for extraordinary heroism in connection with military operations involving conflict with an armed hostile force in the Republic of Vietnam, while serving with Command and Control (North), Task Force 1, Studies and Observations Group, 5th Special Forces Group (Airborne), 1st Special Forces, attached to U.S. Army Vietnam Training Advisory Group (TF1AE), U.S. Army Vietnam Training Support Headquarters. Staff Sergeant Bargewell distinguished himself on 27 September 1971 while serving as a member of a long range reconnaissance team operating deep in enemy territory. On that date, his team came under attack by an estimated 75 to 100 man enemy force. Staff Sergeant Bargewell suffered multiple fragmentation wounds from an exploding B-40 rocket in the initial assault, but despite the serious wounds, placed a deadly volume of machine gun fire on the enemy line. As the enemy advanced, he succeeded in breaking the assault and forced them to withdraw with numerous casualties. When the enemy regrouped, they resumed their assault on the beleaguered team, placing a heavy volume of small arms and automatic weapons fire on Staff Sergeant Bargewell's sector of the defensive perimeter. Again he exposed himself to the enemy fire in order to hold his position and prevent the enemy from overrunning the small team. After breaking the enemy assault, the team withdrew to a nearby guard. At the landing zone, Staff sergeant Bargewell refused medical treatment in order to defend a sector of the perimeter, and insured the safe extraction of his team. Staff Sergeant Bargewell's extraordinary heroism and devotion to duty were in keeping with the highest traditions of the military service and reflect great credit upon himself, his unit, and the United States Army. (Ref. Hall of Valor: The Military Medals Database)
In this video, Major General Eldon Bargewell describes the military operation for which he was awarded the Distinguished Service Cross.
Please donate by mailing your check to:
Grays Harbor Community Foundation
c/o MG Eldon Bargewell Memorial
707 J Street
Hoquiam, WA 98550
Or online at:
https://www.gh-cf.org/online-donation/
Select "Eldon Bargewell Memorial Fund" in the Donations Options box.
© 2023 MG Eldon Bargewell Foundation